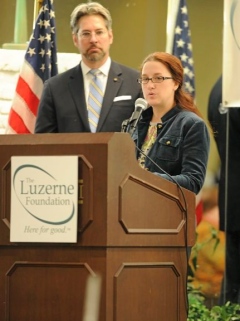 According to an article in the Citizensvoice.com online news source by Denise Allabaugh, two area nonprofit organizations in the Wilkes-Barre area of Pennsylvania will each receive a grant of $10,000.00:
"Five area non-profit organizations were in the running for a $20,000 grant from the Millennium Circle Fund of the Luzerne Foundation on Tuesday and after the votes were tallied, there was a tie.
Volunteers of America's Ruth's Place women's shelter in Wilkes-Barre and the Commission on Economic Opportunity's Monsignor Andrew J. McGowan Center for Healthy Living, which soon will open in Jenkins Township, got an equal number of votes from Millennium Circle members, said Charles Barber, president and chief executive officer of the Luzerne Foundation.
It was the first time ever there was a tie and each non-profit organization will receive $10,000, he said.
Other non-profit organizations in the running for the $20,000 grant included Volunteers in Medicine and its free dental clinic, the United Ways of Wyoming Valley and Greater Hazleton for an "Imagination Library" and Wilkes-Barre Free Clinic.
Representatives of each organization offered two-minute presentations followed by questions at a luncheon Tuesday at Best Western Genetti Hotel and Conference Center in Wilkes-Barre.
The finalists were chosen from 29 nominations. Millennium Circle members were asked to vote for a winner following the presentations."  
In the picture by Mark Moran of The Citizens' Voice, Gretchen Hunt makes her presentation for the Commission on Economic Opportunity's Monsignor Andrew J. McGowan Regional Food Bank.
Please go here to read the article in its entirety.