Home

2015-2016 Title I, Part C Carl D. Perkins Career and Technical Education Act Grant Application
The Texas Education Agency opened the 2015-2016 Title I, Part C Carl D. Perkins Career and Technical Education Act Applicant Designation and Certification (ADC) form on May 18, 2015. The 2015-2016 Title I, Part C Carl D. Perkins ADC form, once certified and submitted by eligible applicants, will activate the 2015-2016 Title I, Part C Carl D Perkins Career and Technical Education Act Grant Application when it becomes available in eGrants on or about May 29, 2015.
Allocations for eligible applicants are available and can be viewed on the Division of Grants Administration's Federal Entitlements page.
Eligible applicants must apply through the eGrants system by 5:00 p.m. Central Time, August 28, 2015.
Please This email address is being protected from spambots. You need JavaScript enabled to view it. for further information, including how to apply for the grant.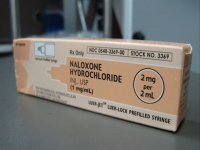 According to an article by: Donna Leinwand Leger, USA TODAY:
"With death from heroin and prescription narcotics at epidemic levels, Health and Human Services officials said the department would put more federal money and effort behind programs to distribute naloxone, an overdose-reversal medicine to first responders and family members.
The push for naloxone, which includes an expanded grants program for states to purchase the drug, is part of a new initiative to be announced Thursday by Health and Human Services Secretary Sylvia Burwell to reduce deaths from prescription painkillers, such as OxyContin and Vicodin, and heroin. Heroin-related overdose deaths increased 39% from 2012 to 2013, and prescription opioids accounted for more than a third of all overdose deaths in 2013.
The HHS effort will focus on curbing overprescribing and inappropriate prescribing of pain pills, expansion of overdose reversal programs, and increasing access to treatment programs that use medication as well as counseling to help addicts.
For years, HHS has funding and pushed for a broad array of programs to combat prescription drug abuse, Richard Frank, assistant secretary for planning and evaluation, said.
"What I think is different here, we've decided to put focus on a limited set of areas. We're going to double down on the areas where the evidence suggests we can have significant impact," Frank said.
Police departments, emergency medical technicians and other first responders around the country have begun carrying naloxone, once known by its brand name, Narcan, which can block and reverse the effects of heroin or an opioid painkiller when a user overdoses. The training and medicine can be expensive. States may use substance abuse block grant funding to purchase naloxone. President Obama's budget proposes an additional $12 million in grants to purchase the medicine and equip and train first responders.
Read more: USA Today reports: HHS to fund more naloxone programs to halt opioid deaths
The New EDGAR
On December 26, 2014, new regulations from the Office of Management and Budget (OMB), codified as Title 2 of the Code of Federal Regulations (2 CFR) Part 200, were incorporated into general federal regulation. This change resulted in major updates to 34 CFR, also known as the Education Department General Administrative Regulations (EDGAR). The regulations previously contained in 34 CFR Parts 74 and 80 are replaced by 2 CFR 200, and the updates to 34 CFR are known as the new EDGAR.
As of 2011, when the process of developing the new EDGAR began, eight separate OMB circulars governed federal grants. Regulations were difficult for grantees to understand and follow. For state educational agencies like TEA, they were cumbersome to enforce. The new regulations are streamlined, with the intent of making them more cost effective, less burdensome, and more beneficial, with a performance rather than a compliance focus.
Refer to The New EDGAR page for details on the new regulations, including their effective/applicability date, purpose, a list of the OMB circulars they replace, and links to related TEA grantee guidance.

If When you transform your dream of helping people into a charitable organization, not only will you be helping people, but the income your organization any nonprofit activities will be exempt from federal income tax. Additionally, depending on your organization and the services/programs offered, you'll be eligible for the following:

Exemptions from county real and personal property taxes;

Tax-deductible donations;

Lower postal rates on third-class bulk mailing;

Cheaper advertising rates;

Ability to air free radio and television public service announcements (PSAs) and;

Numerous other benefits!
Our company has been around since 1988. We have a 100% SUCCESS RATIO in helping our clients form their Charitable, Nonprofit, tax-exempt organizations! We can help you form your tax-exempt, charitable organization too! CALL TODAY FOR A FREE QUOTE: 865.408.8833.